New York | October 30, 2023 – Google Maps has recently introduced a variety of pioneering advancements powered by artificial intelligence. These new inclusions encompass an improved Street View encounter, the integration of augmented reality (AR) within Maps via the Lens feature, extensive search capabilities, and additional enhancements. Below, we provide an in-depth overview of the fresh attributes of Google Maps.
During this year's I/O event, Google introduced a groundbreaking feature called "Immersive View for Routes." Starting this week, the accessibility of Immersive View for routes is gradually expanding to various prominent metropolises, encompassing Amsterdam, Barcelona, Dublin, Florence, Las Vegas, London, Los Angeles, Miami, New York, Paris, San Francisco, San Jose, Seattle, Tokyo, and Venice, on both Android and iOS platforms.
Immersive View for locations, enhanced by artificial intelligence, seamlessly merges extensive Street View and aerial imagery. This technology empowers users to preview restaurants and landmarks before their actual visit. Furthermore, developers now possess the ability to create their distinct immersive encounters, thanks to the recent introduction of Photorealistic 3D Tiles on the Google Maps Platform, as disclosed by Google this week.
As per Google's information, Lens in Maps, previously known as Search with Live View, seamlessly melds the capabilities of artificial intelligence and augmented reality to aid users in adapting to their environment. This innovation proves invaluable whether one is exploring a new city or familiar local spots.
Utilizing this functionality is as simple as tapping the Lens icon in the search bar and raising your mobile device. This action grants access to a wealth of information concerning nearby ATMs, public transportation hubs, eateries, coffee shops, and retail establishments, as officially conveyed by Google. This week marks a significant milestone in the expansion of Lens in Maps, with the feature now being made available in more than 50 additional cities, including but not limited to Austin, Las Vegas, Rome, São Paulo, Taipei, and many more.
In an official blog post, Google has unveiled its plans to offer a more precise representation of the real world on its navigation maps. This exciting development includes refreshed map colors and an enhanced portrayal of buildings, ensuring a more accurate and detailed user experience.
Moreover, for highway navigation, users can look forward to improved lane details, providing them with comprehensive information to navigate turns and interchanges with ease. These updates are set to be gradually introduced over the next few months in 12 countries, including the United States, Canada, France, and Germany.
Starting this week, the California-based tech giant is expanding its range of features for vehicles integrated with Google technology. Notably, electric vehicle (EV) drivers who use Android and iOS platforms will gain access to even more comprehensive charging station data, as confirmed by Google in its blog post.
This new information will encompass details regarding the compatibility of the charging stations with the user's specific EV model and the available charging speed options, categorized as fast, medium, or slow. This comprehensive data will aid users in locating the most suitable charging station for their needs. Notably, Google has emphasized that roughly 25 percent of charging stations in the United States may be non-operational at any given time. To address this, users will also be able to access the last usage status of a charger, helping them avoid unnecessary trips to inactive stations, as Google has underscored.
Google, in its blog post, announced, "Now, when you search in Maps for specific items such as the finest 'animal latte art' or 'pumpkin patch with my dog,' you will receive photo-centric results that precisely match your search criteria. These results are generated through the analysis of countless photos shared by the Google Maps community, a process driven by advanced AI and sophisticated image recognition models."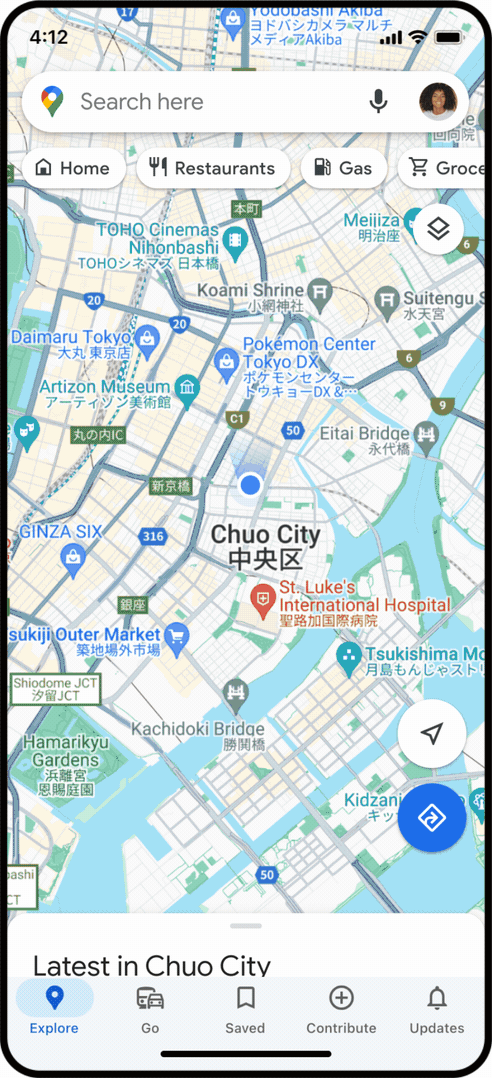 Source: Google
According to the technology giant, this visual compilation of locations will make it effortless for users to discover new places that perfectly match their preferences. By simply perusing the search results, and selecting a photo of interest, users can readily access more information and initiate navigation to their selected destination.
This innovative search feature in Maps will be introduced in France, Germany, Japan, the U.K., and the U.S. this week, with plans for further expansion into additional countries in the near future.